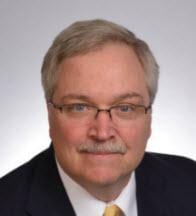 Attorney
Location: Windsor, Connecticut
Phone: 860-683-1525
Fax: 860-683-1510
Email: Email Me
John joined the firm in 2004 Prior to that he practiced in the corporate world as a Senior Corporate Counsel and Human Resources Executive for several high profile companies since 1989. John's extensive background brings an experienced perspective to our client's issues. He is the small company's personal corporate attorney.
John's main areas of practice include Creation and selection of Business Entities, Business Issues, Employment, Contract Matters, Real Estate, Probate and General Litigation.
John's background in the Human Resources area includes organizational development, multi-cultural initiatives, benefits, recruitment and retention issues, incentives, terminations and compensation.
EXPERIENCE: Prior to joining the firm, John served as Vice President, General Counsel and Vice President of Human Resources for General Cigar Holdings, Inc., the manufacturer and seller of such famous cigar brands as Macanudo, Cohiba, Partagas, White Owl and Garcia Vega. John was responsible for all legal and human resources matters relating to this leading international producer of premium cigars and cigar tobacco. He was an active member of the company's Senior Management team working closely with the CEO and Board of Directors on strategic business, development and legal issues.
Before joining General Cigar, John served as General Counsel for the historic firearms maker, Colt's Manufacturing Company, where he was responsible for the control of all corporate legal matters for this world renowned firearms producer. Among his many duties at Colt, John managed a nationwide litigation network of expert counsel in the preparation and successful defense of numerous product liability cases. In addition, John handled public relations duties, acting as primary corporate spokesman on gun rights issues, regularly interacting with national, international and local media. He also maintained regular contact with legislators, lobbyists, administrative and trade agencies on national and local levels in all matters affecting the firearms industry.
Prior to joining Colt John worked for other small companies in CT as part of their Operations teams working on legal matters.
John's experience as chief legal officer for these two well known companies as well as other smaller companies, exposed him to an endless variety of business and legal issues. Among the areas John was involved in are employment discrimination, sexual harassment, product liability, intellectual property, antitrust, technology, risk management, environmental and international marketing/selling.
John's wealth of experience in corporate legal departments has been a wonderful addition to the firm and a benefit to our clients.
EDUCATION: John received his Bachelor of Arts degree from the University of Massachusetts and his Juris Doctorate from Suffolk University . Originally from a suburb of Boston , John was admitted to the practice of law in Massachusetts in 1988 and in Connecticut in 1989.
John's legal career began as Assistant General Counsel at Shared Technologies, a Connecticut telecommunications company. There, he was involved in property management, contract issues and worked on the various issues facing the company including employment, management, and expansion of the company with sec involvement.
John is an active member of the Windsor community , St. Joseph's Parish. and the Windsor Chamber of Commerce. John also enjoys participating in his children's various academic and extracurricular activities. John has donated his time and expertise to the Windsor PAL and Police Cadets as part of his contribution to Windsor's children and young adults.
A lifelong Boston Sports fan and especially Red Sox fan.
Year Joined Firm
2004
Areas of Practice
Creation and selection of Business Entities
Business Issues
Employment
Contracts
Real Estate
Probate
General litigation
Bar Admissions
Massachusetts, 1988
Connecticut, 1989
Education
Suffolk University Law School, Boston, Massachusetts
Juris Doctorate
University of Massachusetts
B.A., Bachelor of Arts
Past Employment Positions
General Cigar Holdings, Inc., Vice President
General Cigar Holdings, Inc., General Counsel
General Cigar Holdings, Inc., Vice President of Human Resources
Colt's Manufacturing Company, General Counsel
Shared Technologies, Assistant General Counsel
Pro Bono Activities
Windsor Chamber of Commerce
St. Joseph's Parish
Windsor PAL and Police Cadets